SOLD
1 box of stuff, as is. Cleaning out my drawers, and these are all things for good ideas that I never had time for. Everything should work, a decent chunk are new. Included are (roughly left to right in the picture):
7 pcs P8X32A-M44 chips (new)
2 Propeller Smorgosboard PCB things (new)
1 MPX5010DP, pressure sensor? (new)
2 Propeller quick starts with pin identifiers (new)
1 Gadget Gangster Propeller Platform USB (new)
1 BE Micro CV (new) for Prop2
1 LED cube, unassembled (new)
1 Raspberry Pi (new)
1 Parallax Keyboard
1 Parallax Mouse
1 Adhesive Disposable SpO2 sensor (new)
1 Raspberry Pi with RoboPi hat
2 Parallax RFID reader modules, plus tags
1 Adafruit Ultimate GPS breakout board (new)
6 Adafruit Ultimate GPS module only (new)
1 Pololu MD01B
1 Pololu IMU01B
1 Adafruit CC3000 WiFi (new)
1 Big motor with encoder
8 Parallax line follower PCB things
1 Sparkfun LiPo charger basic
1 Defcon Parallax Human Badge (new)
1 Pololu ACS711EX Current Sensor (new)
1 Parallax Propeller Proto USB, modified
1 Parallax Lion Power Pack charger
1 Color Pal (new)
1 Parallax Propeller Proto USB (new)
1 Eddie Control Board with power cable
1 Pololu Step Down Voltage Regulator D15V35F5S3 (new)
2 Gadget Gangster Quick Proto kits (new)
1 Polar heart rate band and Parallax heart rate receiver (new)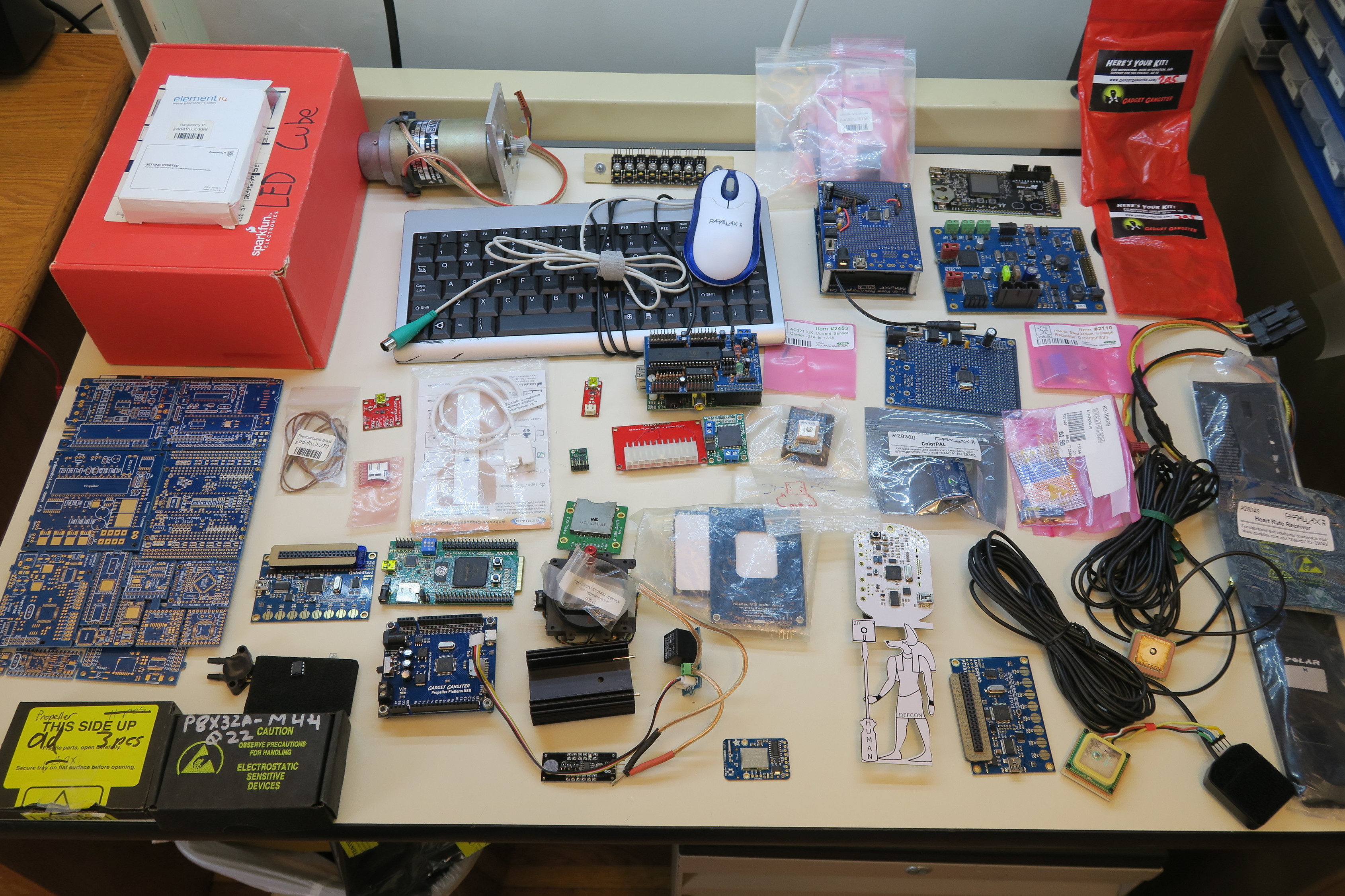 The entire box is going for
$300
, USPS flat rate shipping included. My goal here is to get these parts into the hands of somebody who can use them better than I, and I don't want to spend hours of effort to do so. So I can't sell individual parts, break up the box, or test every single component.
I stand behind the products that I ship. If you're an established forum member (100+ posts or 2 years) I'll give you a full refund minus shipping if you're not happy within a month of receipt. For all others, I think you'll just be happy.