PROPELLER COLOR BASIC V2
-
(A major fork off FemtoBASIC)
Final home for updates. (This project is nearing completion.)
https://www.dropbox.com/sh/qwhixzvtlrvp1u1/y-JshwklWj/PropellerBASIC
Hardware Requirements:
Demoboard or Propellerpowered VGA+
-:- VGA, Keyboard, & Audio (optional SD & Wii Classic Controller)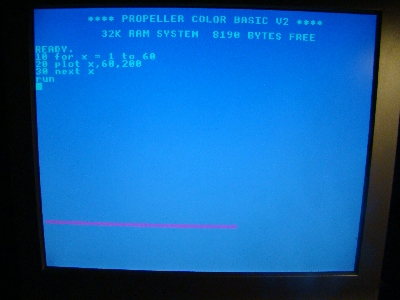 This software would not have been possible without help and contributions from:
Mike Green (FemtoBASIC)
Tomas Rokicki (FemtoBASIC, & FSWR)
Marko Lukat (Despair & Hope VGA driver)
Pat Daderko (Wii Controller driver)
Johannes Ahlebrand (TinySynth)
Michael Park (Edit)
A complete list of commands is being generated, but some hightlights include:
PLOT, NOTEON, NOTEOFF, REDEFINE.
Advanced:
Copy the BASIC.BIN and BASEDIT.BIN to your SD card and
use F1 to jump from BASIC to a full screen editor.
Try this code with it...
10 COLOR 111,0
20 CLS
30 A=RND(100)
40 B=RND(75)
50 C=RND(250)
60 PLOT A,B,C
70 GOTO 30

..more to come..
OBC