Hello Forumistas,
Two points in this post: (1) Our focus on education includes you; and (2) Parallax forums have expanded support presence on parallax.com.
Parallax and our customers have long-standing roots in hobby, commercial and industrial uses. With the recent focus of Parallax on education and the launch of a new web site that focuses on these particular customers, you may feel overlooked as members of our team, customers, and tribe. I've read those thoughts a few times and you might feel we don't give the Propeller the attention it deserves. Some of you have felt that we quietly ignored Spin, in favor of C (which we used for Blockly).
We must continue to focus on a business segment we can effectively develop. What we do, we must do very well. But we can't do everything
sorta
well. You also know it's a changing marketplace. For example, free shipping on low-cost Chinese products plus many domestic outlets affect the hobby business. The Propeller is the core processor in our educational business and Propeller 2 will fit right in when it is finished. It takes educational customers to get this project achieved (Chip is in Colorado this week, supervising the layout progress). If we try to appear purely as a semiconductor company our educational customers will also not know how to communicate with us, so you see an obvious lean towards education.
We've reduced our support team to two people, but one of them (Miguel) is now traveling and running some of our courses with Matt.
Therefore we need your help. The support provided by these forums is exceptional and the reason we have many customers.
We are now increasing the visibility of the forums on our web site in an attempt to have more educational customers access your knowledge. I also hope that any of you who have felt neglected by the educational focus start to feel more included by Parallax.
To help our customers find their way over here, Bump added a visual control to the Parallax web site that connects visitors to our five main web sites (Parallax, OBEX, Learn, BlocklyProp and
Forums
! On the right side you'll see an "offsite links" image: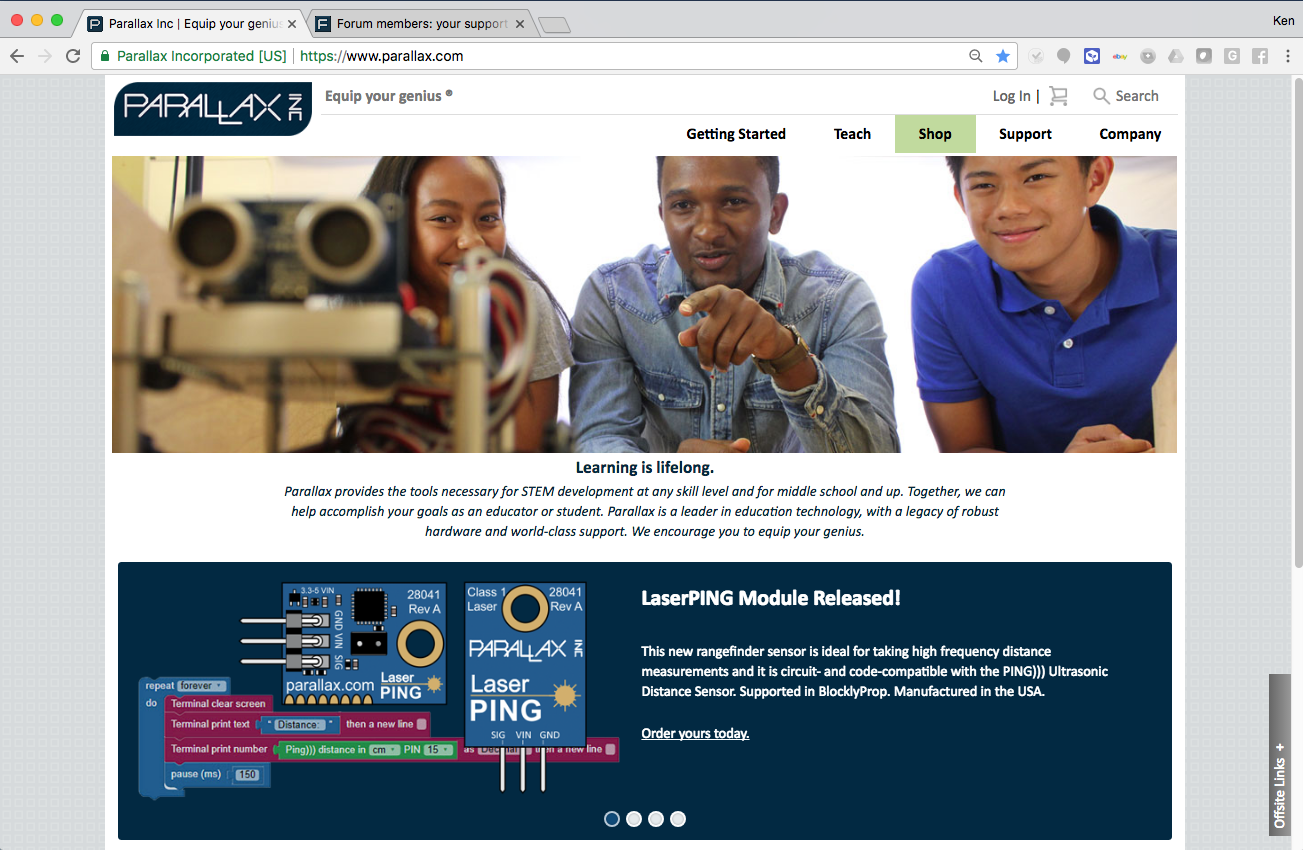 When you click on it, it expands: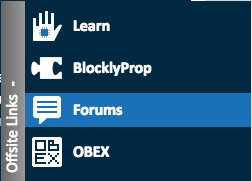 And, you'll also see a prominent Forum link under the Support button. This addition is probably easier to find than the pop-out menu. Together, these two features should drive more customers to the forums.
We are in the beginning of a serious mission right now to train 500 teachers. This kind of commitment has never been made by a company of our size. We are traveling to their locations, running the Professional Development, and giving them each an ActivityBot 360. This costs us several hundred dollars per teacher - and comes with a fairly well-known return to Parallax but not without significant risk.
Therefore, I ask for your support! I welcome your replies below, of all colors, shapes and sizes!
Thanks,
Ken Gracey
P.S. See the link to the Educator Hotline? We're getting a lot of inquiries this way right now (and I answer it with Kate and Matt, in case you ever want to call us)