I want your input to guide future development.
1. What kind of applications would you do with a video input?
2. NTSC or PAL?
3. bt.601 or square pixels?
4. Output resolution and color encoding?
5. High frame rate or reduced cog count?
Comments:
3. bt.601 is 720x480 for NTSC, 720x576 for PAL,
Square pixel is 640x480 for NTSC, 768x576 for PAL
Minimum clock frequency is 234 for bt.601, 221 for sqNTSC, 266 for sqPAL.
I would favor square pixels for machine vision applications.
4. Memory usage is a big concern here.
768x576x8bpp=442,368 bytes.
720x480x8bpp=345,600 bytes.
640x360x16bpp=460,800 bytes.
384x288x16bpp=221,184 bytes.
320x240x32bpp=307,200 bytes.
320x240x24bpp=230,400 bytes.
320x240x16bpp=153,600 bytes.
YCrCb output would save a few clock cycles.
5. Capturing the monochrome video almost totally utilizes 1 cog. I estimate at least 2 additional cogs to decode color in realtime. The capture cog could stop after capturing a frame and convert the output to color.
Based on the above I think I would want 320x240 output for color to allow the possibility of 2 images in memory. 1 for capture, 1 for processing. Higher resolutions just don't make much sense except for really simple algorithms. The capture code operates at 9 instructions/pixel and getting 12 instructions/pixel requires a sysclock over 300MHz.
Here's a test image. It's NTSC, with bt.601 sampling, but with 48 additional pixels on the left side. That's to get some of the color burst. It's a single ADC pin, using the Goertzel hardware for the window filter. Sampling is line-locked, controlled by the Goertzel NCO.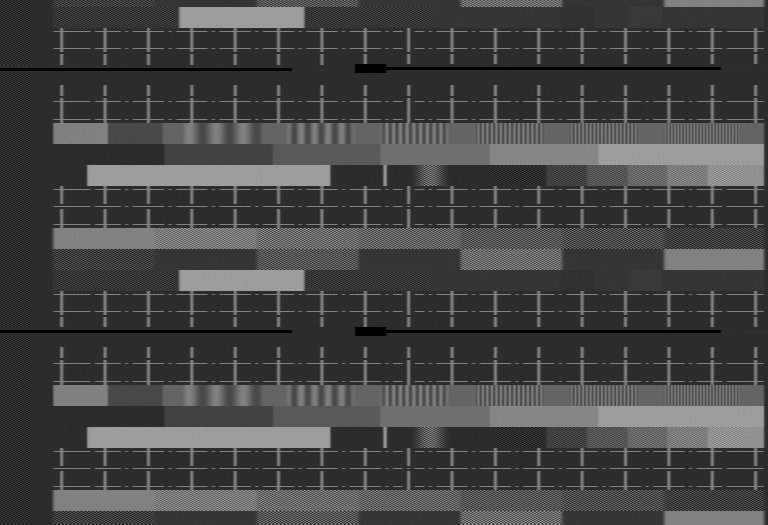 Code is attached. It's alpha quality, beware. Horizontal sync is not optimal. Vertical sync is non-existent.