Howdy,
Using John Abshier's PingDemo.spin2 code (
https://github.com/parallaxinc/propeller/tree/master/examples/EZLib
), I'm not able to receive the echo pulse from a Parallax Ping, though a logic probe does see the echo pulse returned. I'm using the schematic from the P1 C demo tutorial @
learn.parallax.com/tutorials/language/propeller-c/propeller-c-simple-devices/sense-distance-ping
. I assumed that the schematic should work for P2 as well...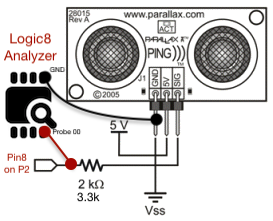 Set up this way, the logic analyzer displays:

If I connect the logic probe directly to the Ping signal pin: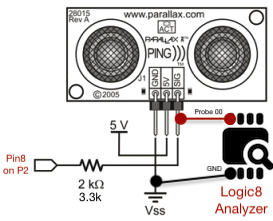 The analyzer displays the proper echo pulse:

So, John Absheir's code appears to work (the echo pulse is emitted from the Ping), but I'm not sure why the signal does not appear at the P2 pin. I've tried several resistor values (3.3k, 1.2k, etc) with no change. Since I'm physically not seeing the echo pulse after the resistor, is there something on the P2 pin side that needs to be present (pull-up or pull-down resistors don't make sense, correct?).
Any help appreciated,
dgately