Hello,
These are the demo code for 4 units of RGB LED Modules.
Before try this test code, please make sure you can run the test code for one module on the platform you are using.
Note: You really need a good power supply for 4 modules.
To run the test code for 4 modules, you have to set the Device ID and Pseudo Screen Size(PSS) before assemble them together and run the demo code on your microcontrollers.
Arduino users, please import the library to your software first. The instructions are in the _readme.txt files packed with source code.
Currently, I wrote three kinds of demo code: Spin for Propeller, C for Propeller and C for Arduino.
All the them have two kinds of code, one for changing the Device ID and PSS, and the other is the demo code.
Change the Device ID & PSS.
1) Connect ONLY one module to the microcontroller while running the code "ChangeDeviceID.xxx". See the detail information in the Product document.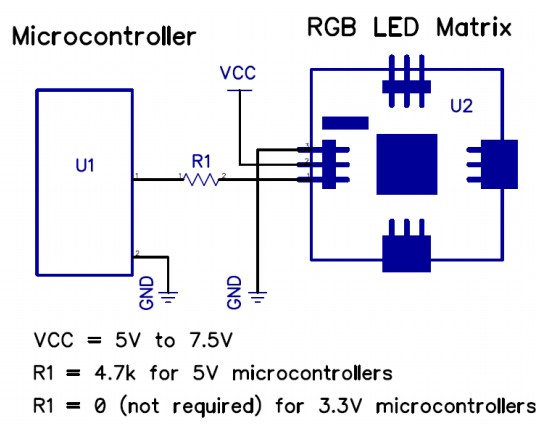 2) Open the code "ChangeDeviceID.xxx" (Depends on the platform you are using).
Change the definition of the DeviceID and PSS for example C code for Arduino setting the Device ID to '0' and PSS to '15'.(The PSS would always be '15' in the demo code)
///////////////////[ Only this pieces of code need to be changed ]////////////
#define ID (0)        /* Please change the ID you need for 4 module please set to 0/1/16/17 for each module*/
//////////////////////////////////////////////////////////////////////////////////////////////////
#define PSS (15)      /* RSS = (PSS + 1) * 8 = 128,  Real Screen Size = (PSS + 1) * 8 */

3) Upload the program to your microcontroller, and wait for about 5 seconds, if the changing DeviceID and PSS successfully, the RGB LED Matrix will turn green.
If after 5 second nothing change to the module, check your power and connections and try it again.
And I recommend to put a label to back side of the module.
4) Set the DeviceIDs of other modules to '1', '16', '17', follow the steps from 1) to 3), and do that again, until you change the DeviceID to '0', '1', '16', '17'.