Edit: See post #2 for videos of the robot walking with tether.


By popular demand, here's my attempt at a hexapod.
After seeing several robots made from chopsticks, I thought I'd try to make a robot with popsicle sticks. I was concerned about the the sticks being too long for the size of servos I was using but I didn't want to ruin the popsicle stick look by cutting the sticks shorter than normal.
If I change the angle of the legs a bit, it might be possible for this robot to walk on a tether. I'll likely switch to more powerful servos and/or shorter legs.
Here's a picture of a very early version. (It was too short.)
I liked the dimensions but the legs were too close together to let them move much.
Since the servos weren't powered in the photo, I had to have the legs at a certain angle in order for the robot to stand up on its own. Maybe if I used similar angles when the robot is under power, it would be able to hold itself up while walking? I might give it a try.
So here's a video of the robot's failed attempt at walking. (Make sure and watch the videos in the second post.)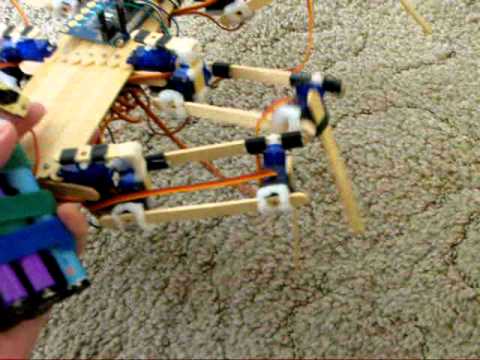 As you can see in the video (but not very well), I'm using Lego turntables on the bottom of the servos in order take some of the sideways torque from off the servo horn. I think the turntables let the servo move a heavier load.
I'm using PolyMorph and Gorilla Tape to hold the joints together. I'm also using 2 mm nuts and bolts and double sided foam tape to hold the robot together.
The robot in the top picture doesn't have any PolyMorph in it. I had initially tried to hold the joints together with double sided foam tape and Gorilla Tape. The PolyMorph is a lot better for some applications than Gorilla Tape like holding Lego turntables to popsicle sticks.